Scott Olson/Getty Images87
Attorney Michael Avenatti revealed disturbing details about one of the new R. Kelly tapes.
Yesterday, R. Kelly was released from jail after he posted $100K bond. The singer went straight to McDonald's but on the way there, he picked up an unidentified woman in the black van that he was riding in. Everything around Kelly seems incredibly seedy right now and the new details that attorney Michael Avenatti has just shared about the uncovered sex tapes are truly horrifying.

Chicago Police Department via Getty Images
The Surviving R. Kelly documentary revealed a lot of the terrible things that R. Kelly has allegedly done to underage girls and women during his career. We all know about the original sex tape he was involved in but now, a few others appear to be in possession of the Chicago Police with attorney Michael Avenatti sharing information about one of them today. If his statement is accurate, it obviously paints R. Kelly as a child predator.
In a new tweet, Avenatti writes a few quotes from the sex tape he uncovered, which are truly disturbing. The lawyer says that in the video, Kelly can be heard clearly saying, "Give me that 14-year-old p****," and other variations of that. The girl on film repeatedly tells Kelly her age, which would confirm the singer's guilt in having sex with underaged girls.
The videotape in question was provided to prosecutors yesterday.View image on Twitter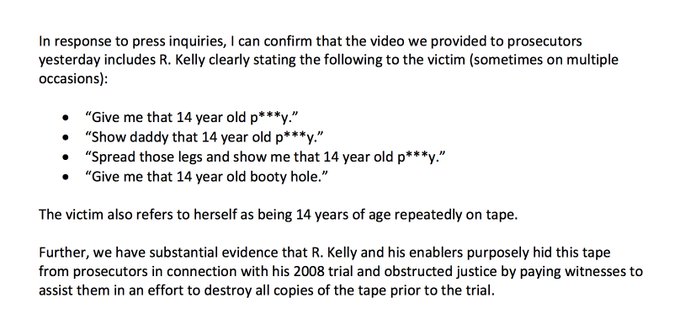 Michael Avenatti✔@MichaelAvenatti
In response to press inquires, below is further information regarding the videotape we provided yesterday to prosecutors. It leaves no doubt as to R. Kelly's guilt as to these serious sex crimes against underage girls.3,9293:06 PM – Feb 26, 20193,151 people are talking about this