Frazer Harrison/Getty Images1
He had to spin for "a bunch of 9-year-olds" and golden-agers.
Questlove accepted the hefty task of putting together the soundtrack to the official Oscars after party. The honor came with its set of challenges, considering the type of crowd he'd have to please. The Roots artist commented on trying to find the ultimate musical balance to accommodate a diverse combination of tastes.
"They asked me to spin at the after party," he said when asked about DJing the event. "I thought about it because this isn't like the parties I usually do. This isn't one age demographic so I'm dealing with a bunch of 90-year-olds and a bunch of 9-year-olds so I gotta find the difference between when Benny Goodman and Miles Davis said 'Thotiana'."

Kevin Mazur/VF19/WireImage/Getty Images
The Academy Awards nominees for Best Original Song is a reflection of this dilemma. The winners of the award, Lady Gaga, Andrew Wyatt, Anthony Rossomando, and Mark Ronson, had penned "Shallow." The Star is Born track is low-key country and inspired by Eric Clapton in its composition. Then there was Diane Warren's "I'll Fight," a power ballad performed by the soulful Jennifer Hudson, and "All The Stars" by Kendrick Lamar and SZA, a meld of contemporary R&B and Rap tied neatly with a pop-tinged bow.
Quest is a music historian so he most likely bodied his set.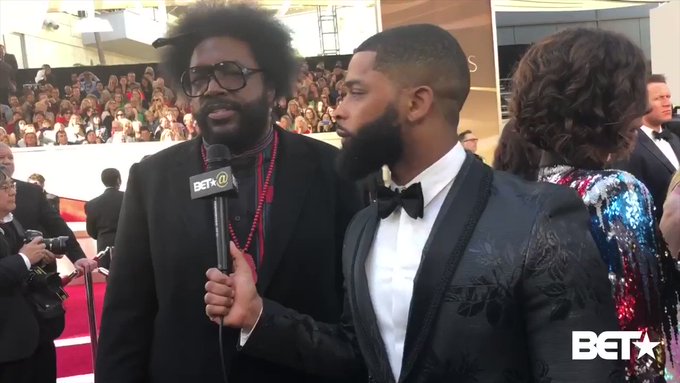 Mixing Miles Davis' "Kind of Blue" with & Blueface's "Thotiana"? @QuestLove (the polymath-audiophile-genius) told us how he's going to DJ the official #Oscars afterparty. It's going to be an eclectic night. What up @bluefacebleedem! | Watch the Oscars tonight @ 8pm EST on ABC1281:29 AM – Feb 25, 201931 people are talking about this